In addition to basic payroll processing, do you need support with labor laws and regulations? Maybe it's time for a true payroll partner that's on top of HR regulations and provides solutions to keep you compliant.
With our payroll and tax solution, you get full-service support when we perform all daily payroll functions typically handled by your internal staff, such as validating payroll, new hires and terminations, federal and state compliance, payroll taxes, and more. Our industry-leading technology from UKG (formerly Kronos) means improved accuracy and reduced processing time via one unified platform.
Our team is dedicated to the build out and upkeep of the system so your team is not required to become super users. In addition, we stay current on payroll tax changes and provide updates via email. In essence, our team is an extension of your team and we operate in a supportive way that makes it easy for you to focus on more important things like managing and growing your business.
ACCESS FULL-SERVICE PAYROLL SUPPORT FROM A TRUE HR PARTNER
PAYROLL & TAX SERVICES
With our full-service solution, we perform all tactical activities across the payroll and payroll tax spectrum. We partner with your staff as though we are one of the team, and we support them to reduce their workload and make their lives easier.
Prepare payroll data including employee changes, inactive employees with pay, etc.

Prepare hourly payroll and review timecard exception report, missing approvals, missing time, etc.

Process expense reimbursements, commissions, bonuses, auto reimbursements

Process paid time off (PTO) accruals

Handle leave and absence management

Prepare prorated pay for mid-cycle hires

Prepare severance payments

Setup, adjust, and configure deductions

Setup garnishments and liens

Setup exception processing

Conduct payroll preview to verify accuracy

Handle payroll distribution and direct deposit

Handle workers' comp premium collection




Manage ACA compliance and reporting

Ensure compliance with all state and federal laws

Process tax notices, rate changes, and adjustments

Reconcile defined contribution files

Produce general ledger files and payroll reports

Prepare labor reports for state reporting

Recommend best practices for payroll and benefits

Prepare reports for audit, compliance, and business planning

Conduct year-end reporting, adjustments, and reconciliation (W2, W3, 1099)

Provide poster compliance

Process new hire e-Verify

Handle multiple EINs

Provide mobile self-service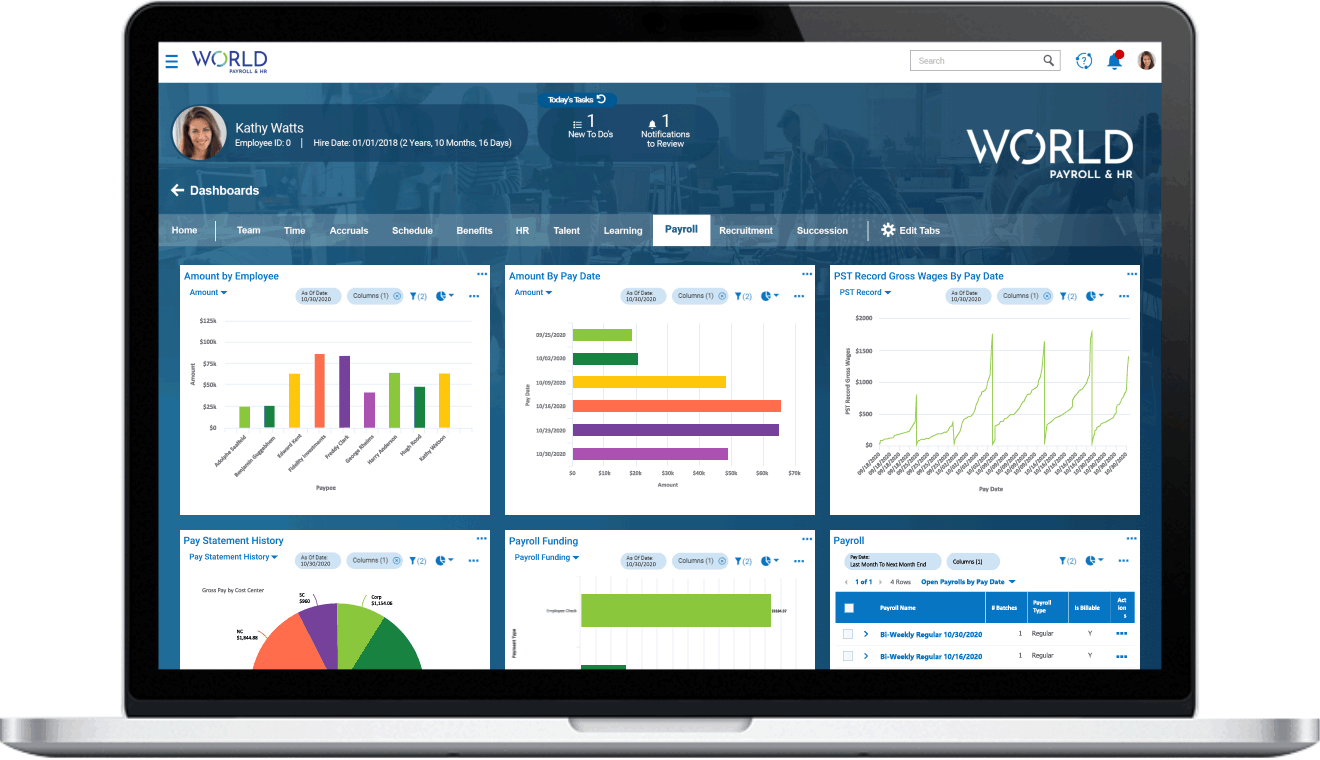 Gain insights and improve payroll and tax administration accuracy with detailed reports and metrics.
Customized Payroll Solution
Minimize legislative and tax compliance risks, easily manage complex changes, and access payroll from any device via our customizable payroll solution.
Schedule Demo
EXPLORE OTHER WAYS WE CAN HELP
Ready to have less administrative work?
We can help tailor a program that makes sense for your unique business and your budget.